/
7 Benefits of Drinking Mango Juice (For Weight Loss And More)
*This blog is a participant Amazon Affiliates Program and some articles may contain affiliate links! As an Amazon Associate, I earn from qualifying purchases at no cost to you*
Mangoes are delicious yummy, fleshy and sweet tropical fruits with a hard flat and oblong seed in the middle. This fruit contains a high amount of Vitamin C, Vitamin A, antioxidants, and fiber. These contents make mango a very popular fruit to include in your weight loss diet.
Mangoes are high in carbohydrates but have complex sugars, meaning your body can process it much better than simple sugars that can be detrimental to diabetics.
Juicing mangoes is a great way to get all the nutrients. Smoothies and fruit salads make delicious recipes too. The listing below, are 10 great benefits of drinking mango juice.
1. Good For Eyes
The presence of vitamin A in mango makes it great for your sight. Vitamin A prevents dryness in the eyes and improves vision, even among those suffering from ailments like cataracts. A cup of Mango juice contains 25 percent of the daily vitamin A requirement of the body that helps in promoting good eyesight. Also, the high level of pectin and fiber helps in maintaining overall eye health.
2. Helps Maintain Healthy Weight
For staying in shape and proper muscle building it is important to choose food wisely, which is dense in energy and nutrients and low on fat. Mango and its juice are highly recommended to consume in a proper manner to stay fit. Mango juice helps to convert the starch in the body into sugar which helps in adding mass to the body.
3. May Prevent Cancer
Mango is loaded with antioxidant compounds including astragalin, methyl gallate, isoquercitrin, fisetin, quercetin, and gallic acid. These components are anti-cancer agents. This means that drinking mango juice regularly can help reduce your risk of getting some type of cancer. In this category are breast, colon, leukemia, and prostate cancers. Mangoes contain a component called lupeol, known to suppress the growth of cancer and tumor cells.
4. Great Source Of Iron
For those who suffer from anemia, iron is one of the most significant nutrients to keep your blood levels rich.  Iron deficiency may lead to several severe health issues including anemia, hair loss, skin blemishes, and brittle nails.   Drinking a cup of mango juice every day can help with this. Mango juice is very helpful for the to-be-mothers as they require a high content of iron and those who suffer from anemia.
5. Clears The Skin
One of the best benefits of mango juice is that it enhances the beauty of your skin by providing essential nutrients in great quantities. Acne, pimples, and other skin issues can be treated by using the mango fruit as a face mask. You just need to apply the mango pulp on your skin for about ten minutes. After the recommended time, wash your skin with tepid water. You can also get this result by drinking mango juice as a smoothie component or for cleansing purposes.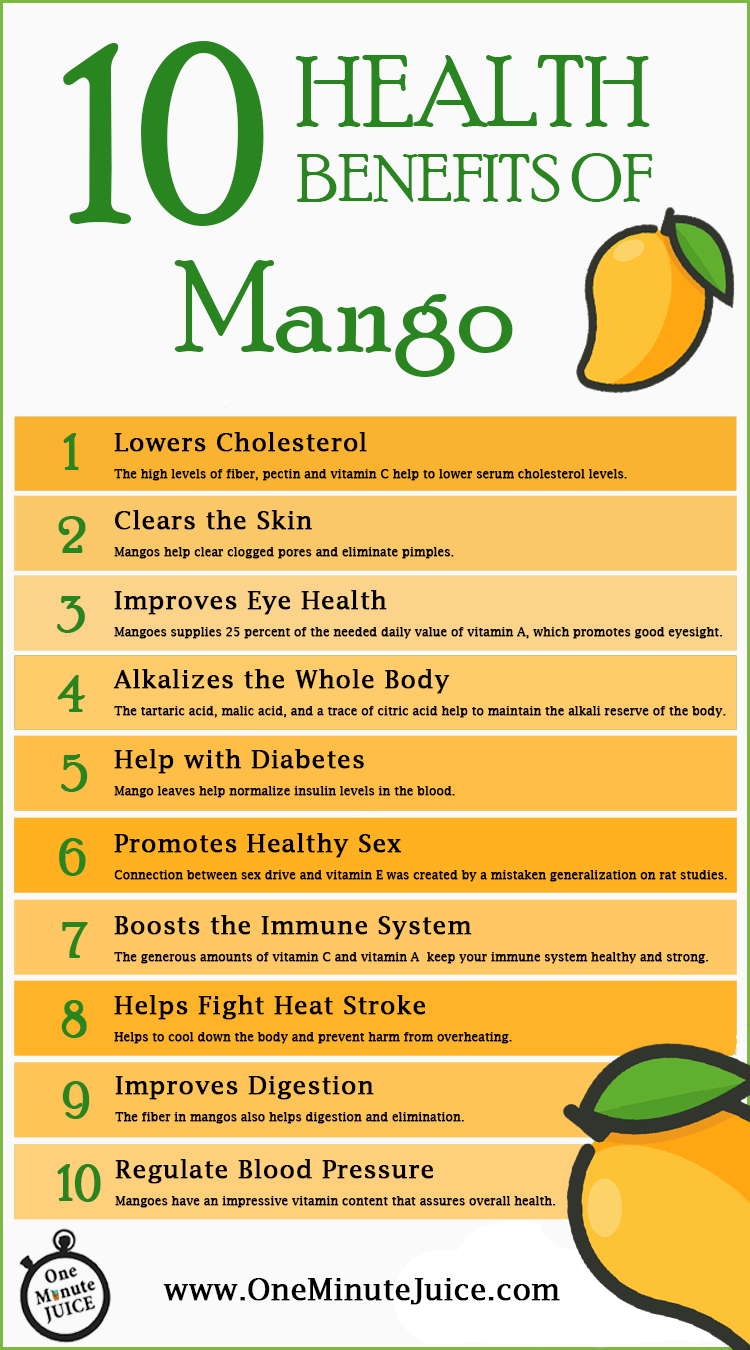 Image Credit: One Minute Juice
6. Improves Digestion
Mongo contains high fiber content which is great for proper digestion of food and helps prevent constipation. Mango juice is well-known to promote the health of the digestive system by settling an upset stomach too. If you are suffering from constipation, consume this marvelous juice in combination with a blend of citrus juices making sure to include the pulp to get the maximum benefit from the fiber contents.
7. Boosts the Immune System
Vitamin C, Vitamin A, and carotenoids are found in mango juice. These constituents combine together to keep your immune system strong and healthy like most tropical fruits.
See Also:
10 Benefits Of Drinking Lime Juice On Empty Stomach
10 Awesome Things Pomegranate Juice Can Do For You
7 Pineapple Juice Benefits That Will Surprise You
7 Watermelon Juice Benefits That Will Improve Your Life
Mango Juice Nutrition Facts
Mango juice has numerous valuable nutrients. A cup mango juice holds 128 calories, with less than 1 g each of protein, fat, and cholesterol. 33 g of carbohydrates and 0.8 g of fiber are available in one serving.
The juice, derived from fresh mangoes, is loaded with Vitamins C & A along with traces of Vitamins B, E, and K. Some relevant minerals to0 are found in mango juice. One serving contains:
61 g of potassium
43 g of calcium
8 g of magnesium
5 g of phosphorus
0.9 g of iron
1.0 mcg of selenium
13 g of sodium
Conclusion
As you have read, mango is very beneficial to your overall health. Do you like mangoes? How best do you enjoy this fruit?